Your Gilder Telecosm Forum membership includes: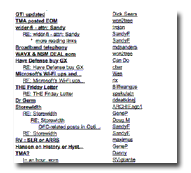 Access to our exclusive subscriber-only message board, the Gilder Telecosm Forum, where hundreds of investors, engineers, and money managers gather each day and night to share information and debate technology and finance, and where George Gilder, Charlie Burger and the former Gilder Technology Report editors post opinions and essays and answer member investment questions. Don't be surprised when you also encounter some humor and a heavy dose of supply-side macro-economic analysis...
Electronic access to eleven years of Gilder Technology Report newsletter archives. Plus all past issues of Nick Tredennick's Dynamic Silicon Report, The Gilder Biotech Report by Dr. Scott Gottlieb, and the Huber/Mills Digital Power Report, written by Peter Huber and Mark Mills.

A free subscription to the Gilder Friday Letter, our weekly email dispatch from the heart of the Telecosm, pulling together most groundbreaking news and ideas from the Gilder Telecosm Forum, Forbes.com, Wall Street and the extended telecosm community. s.

Discounted admission to the Gilder/Forbes Telecosm Conference, hosted annually by George Gilder and Steve Forbes, and recognized as one of the most prestigious venues in the world for breaking information on breakthrough technologies and forward-thinking companies.

PLUS, Become a member of the Gilder Telecosm Forum today and receive 4 Free Special Reports:

The China Phenomenon
The most lucrative market for technology in the world right now is China. The population is 1.3 billion people (4 times as large as the U.S.). And the economy has grown at 10.9% a year since 1979.

The Analog Chip Revolution
Analog chips are high-speed integrated circuits used in analog (non-computer) devices like cameras, radios, cars, and television sets.

Broadband Rides Again
High rates of taxation and regulatory strangleholds have put a damper on broadband in the U.S., ultimately leading to the downfall of once promising broadband upstarts like Qwest and Global Crossing. But broadband is alive and thriving in Korea, a booming market of 48 million.

EZ Profits With EZchip
A specialized chip for network processing, the EZchip integrates the processor and multiple DRAM (dynamic random access memory) units onto a single chip, to dramatically reduce storage costs and improve performance.